Accommodations at the New Agrarian School
Most students choose to stay on the school campus while taking workshops. We provide limited housing of several types, described below. Off campus accommodations are available in the area as well: motels, vacation rentals, and campgrounds. If you intend to take advantage of housing in the area, please be advised that in the summer these will require reservations well in advance of your intended stay. The school accommodations are provided to be both more convenient and less expensive than those in the Bigfork area.
If you choose to take advantage of accommodations on the school campus, please reserve them when you register for the workshops.
We are booking all camping, cabin, and trailer accommodations through Hipcamp (search "Hipcamp Wildiron Bigfork").  The prices listed here are specifically for those attending workshops at the school. Be sure to enter the discount code M1P1YGZQ when booking through Hipcamp.
Meals. The school is a small, family-operated affair, and we simply don't have the ability to provide meals for those attending the workshops here. Folks camping or staying in any of the other accommodations at the school have full access to a nicely equipped outdoor kitchen in which to prepare their meals. The kitchen is a pavilion type building with a roof but no walls and includes food storage space, refrigeration, a gas grille, an induction cooking plate, gas burners, and a wood-fired pizza oven. There is a large picnic table, a couple of food preparation counters, and basic cookware and table ware. A single sink with running water provides for dishwashing, etc.
There are numerous café's and restaurants in the area for those who want to purchase their meals off-campus, including a nice breakfast and lunch café just a couple of miles down the road.
There are two grocery stores in nearby Bigfork, and a farmer's market during the summer on Monday evenings. For those who are attending but do not have a car, we have several bicycles available, or students can carpool. The village of Bigfork and Flathead Lake are about seven miles away.
Tent Camping. The school offers tent camping for participants that includes a private tent site, access to showers and toilets, as well as access to a nicely equipped outdoor kitchen for preparing food during your stay. Please be advised that due to fire hazard in the summer, absolutely no smoking or fires are allowed in the camping area. Smoking is permitted in designated areas near the blacksmith shop itself. Tent camping is available for $20.00 per night and there are enough sites to accommodate as many students as any workshop includes.
Camping in the Appalachian-style camp shelters. We have two nice camp shelters with three hard walls and a solid roof for those who want to camp, but not in a tent. There are very few mosquitos here, usually none at all. The camp shelters feature a stone floor and wooden sleeping benches. Self-supporting tents can be pitched in the shelters for those who want a bit more privacy at night and greater insurance against bugs. The shelters offer much more space than a tent, a place to simply "hang out", and better rain protection. Access to showers, toilets, and the kitchen are included in the price for these shelters. They are set up to house two people, with sleeping platforms on opposite sides of the structure. Campers will need to bring their own sleeping bags and pads. The cost is $25.00 per occupant, per night, and we have room at present for four students (two in each shelter).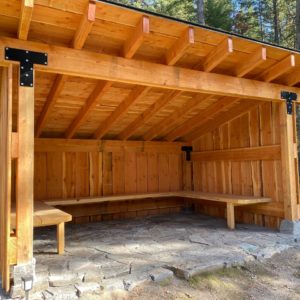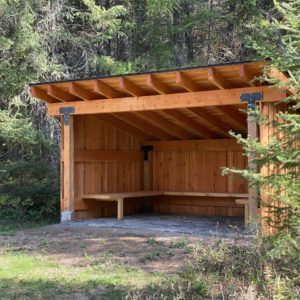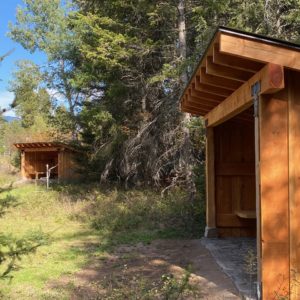 Recreational Vehicle Camping. We have a number of RV sites available with and without hookups. The cost for parking an RV without hookups, but with access to the showers, toilets, and kitchen is $25.00 per night. There are a limited number of spaces for RV's with water and electricity (no sewer!) for $30.00 dollars per night.
Private Cabin with bath and kitchenette. The school presently has one very nice cabin with a queen sized bed in one room, a full-sized foldout bed in another, along with a dining and sitting area, a compact kitchenette, and a shower and toilet facility. This cabin can accommodate two to three people and is rented at one price. So if you want to bring along a spouse or relative, that is fine. If two students want to share the cabin, that can be done by special arrangement. Cabin rental includes bedding and towels. The cost for the cabin is $145.00 per night.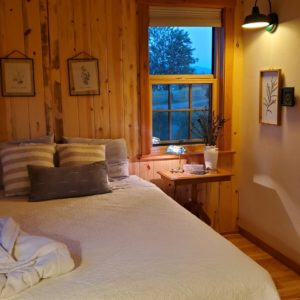 Classic Airstream travel trailer. The school has a very nice old Airstream trailer with one full sized bed and a foldout bed in the living room area for rent. It includes a kitchen with gas range, refrigerator, electricity, and running water. (The bathroom in the trailer is not used). Instead, there is a conveniently located composting toilet and solar shower for use of those who rent the Airstream. Airstream rental includes bedding and towels. The cost for the Airstream is $95.00 per night.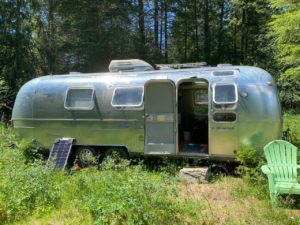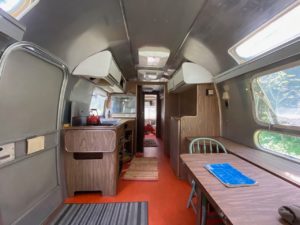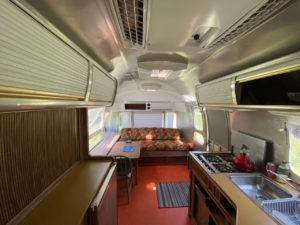 Tipi rental. We have a very nicely appointed tipi available at the school in the campground area. It includes a solid wood floor, a queen sized bed with bedding and towels, simple furniture, and a storage chest. There is no electricity, but electric lanterns are provided. Guests in the tipi have access to the shared outdoor kitchen, the solar and wood-fired showers, and the toilets at all locations. The cost to stay in the tipi is $85.00 per night, and it can comfortably accommodate two people in case you want to bring a spouse or friend.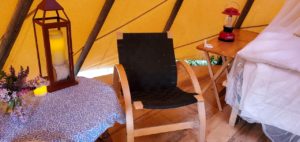 Price List for Accommodations
(booked through HipCamp with discount code - coming soon.)
Tent camping: $24.00 (after discount on hipcamp)
Tipi camping: $68.00 (after discount on hipcamp)
Airstream trailer: $76.00 (after discount on hipcamp)
Cabin rental: $116.00 (after discount on hipcamp)
RV sites: $28.00 (after discount on hipcamp)
Shelter camping: $32.00 (after discount on hipcamp) This price is for the entire shelter, not per occupant!
Important considerations for camping at the school.
Wildlife
The school is located in a rural area of western Montana, and we share this land with abundant wildlife. While unusual, we do occasionally have visits from bears (black and grizzly), mountain lions, raccoons, skunks, etc. Thankfully this immediate area is almost entirely free of mosquitos, but in some weather there will be a few. The school requires conscientious disposal of all wastes, and provides bear proof receptacles in the camping area. As well, any food in the camping area must be stored in hard sided bear proof containers or in your car. The school will provide safe storage for foods in the kitchen area.
Toilets
All toilets for use by workshop participants are of a composting type. They are convenient and sanitary and require no maintenance by those attending the classes. We use this type of toilet because we are perched on a sensitive aquifer and don't want to contribute nitrogen to it. Also, and equally important, our objective here is to treat urine and fecal matter as a resource, not a waste to be disposed of. The toilet materials are all collected, composted in special bins, and returned to the soil to nourish plants when the material is fully composted and safe. Instructions for using the toilets are posted at each location.
Fire
For most of the workshop season, this area is dry and very prone to wildfire. Therefore, absolutely no smoking or fires are permitted in the camping area. These rules are strictly enforced, and anyone not complying with them will be asked to leave with no refund. Cooking is restricted to the designated area near the shop where the grass is kept mowed and there is water available at all times.
Nutrient and Water Cycles
Here at the New Agrarian School we are committed to the cycling of nutrients for agricultural purposes, conserving water, and minimizing the impact of our activities on the aquifer from which we draw our water. The same aquifer we drink from feeds the nearby lakes. As well, that aquifer is depended upon to dilute the effluent from the area's septic systems.
For these reasons we are committed to composting all organic material generated at the school, which includes not only food wastes, but all urine and fecal matter. The toilets here collect all of the byproducts of digestion. This material is then composted in special bins for at least two years, after which it is used to fertilize the orchard. The combination of high temperature aerobic decomposition and subsequent aging produces a rich, pathogen free soil amendment. This system saves an enormous amount of water that would otherwise be used for flush toilets and avoids burdening our sensitive aquifer with nitrates and other problematic nutrients that would compromise our wells and lakes. As well, it completes the nutrient cycle that we depend on for producing food… a cycle typically broken by conventional septic and sewage strategies. While unconventional, we believe this system to be much superior to what has become accepted as normal.
For many people using a composting toilet system is unusual and perhaps a new experience entirely. Here it is an integral part of crafting a meaningful relationship between ourselves and the land which sustains us. If you are interested in learning more about the system used for composting our organic materials here, please read the excellent book by Joseph Jenkins: The Humanure Handbook.